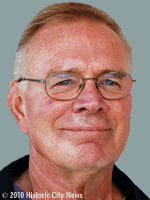 Dear Editor:
I appreciate this opportunity to thank everyone for their support.
This election was less about two good candidates and more about increasing Port advocates.
It was also about gaining a more dynamic funding base for St. Augustine and St. Johns County water-related projects.
Your five Port Commissioners can now engage, at will, with St. Johns Florida Inland Navigation District representative, Commissioner Carl Blow, without Sunshine Law restrictions.
St. Johns taxpayers yearly send around $680,000 to the Florida Inland Navigation District in Jupiter, Florida.
Commissioner Blow contends with eleven other Florida Inland Navigation District commissioners who represent all the counties along the Atlantic coast of Florida.
For Blow, maximizing tax dollars returned to St. Johns County for our marine-related projects could be a full time effort.
Port challenges are never ending and include:
-erosion at Vilano Beach and Summer Haven;
-Inlet shoaling;
-derelict boats and longstanding maritime law;
-enhancing our waterfront experience without making it exclusive.
I post a reminder of Port meetings and a summary of meetings and you can subscribe with an email to jblissuno@gmail.com.
The Port's official website is www.staugustineport.com.
Thank you for your votes for a better Port structure.
Jay Bliss
ASA, USCG Lic. Capt.
St.Augustine Port Commissioner
Share your thoughts with our readers >>