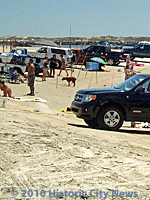 Editor-
On Sunday May 30th about 7:30-8:00 a.m., I walked out on the beach in front of the Ocean Blue Motel and set up 2 surf rods like I have done several times before over the past 10 years.
This particular area of the surf is a great spot for pompano fishing and this time of the year they should be running.
At the time I arrived on the beach there was about a hand full of people on the beach and just a few people in the water.
Around 9:30-10:00 a.m., an older female surfer walked up to me and wanted to see where my fishing lines where and I quote "I sure don't want to get cloths lined with one of your lines" and then she turned and got into the water right in front of where I was fishing.
I thought to myself here we go again.
I also know that in front of the Ocean Blue Hotel is a good spot for surfing. That is why I got there first. Soon after that the water was full with about a dozen or so surfers, right in front of where I was fishing.
I complained to the lifeguard that if they don't move I will call the police. The lifeguard said to me and I quote "the police will tell you to move" and I said, call the police I want to hear them tell me to move, after all I got there first.
About 10-15 minutes later, an SJSO deputy arrived and we talked peacefully for a couple of minutes about the situation.
I know it was a holiday weekend, the swimmers and the beach goers where not the problem, the surfers where the problem.
No police report was made, nothing was said to the lifeguard, nothing was said to the surfers, so I decided to pack up and leave even when I didn't want to.
The one fishing line that I did have out in the water was cut by one of the surfers; I lost about 5 dollars in tackle and several yards of braided fishing line.
Scott Wolf
St. Johns County
Photo credits: © 2010 Historic City News staff photographer
Share your thoughts with our readers >>