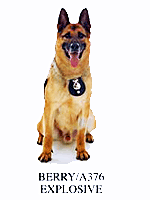 Well … here we are, yet another Memorial Day.
I'll be joining friends and comrades at the VFW later on this afternoon.
It'll be sad and happy at the same time.
I'm hoping that each of you enjoy your day and only ask that you do remember our fallen veterans.
There is, however, one group of veterans rarely mentioned. Pet lovers will understand, others may not.
War Dogs.
Yes, actual dogs. Dogs recruited, trained and sent into battle displaying loyalty and bravery beyond reproach. They were bomb sniffers, cadaver hunters and point runners on recon missions.
There are many accounts of their actions that saved lives, not only the life of their handler, but others in the unit as well. Google has a lot of information about these brave creatures.
For example, over 4000 dogs were sent to Vietnam but only about 200 returned. Some were left behind to survive on their own in the jungle while others were turned over to remaining South Vietnamese civilians but the bulk were killed in action.
War dogs continue to be used in the current conflicts in the Middle East. Veteran groups have sprung up all across the country trying to increase recognition for these unsung heros and several states are constructing, or have constructed, memorials to them.
Anyone interested in adopting a returning war dog can google the information.
So, when your own "spot" or "rover" comes up to you today, pat him on the head and remind him how lucky he is and when remembering our human fallen veterans, whisper a kind word or thought to their four legged comrades.
-Anonymous
Share your thoughts with our readers >>