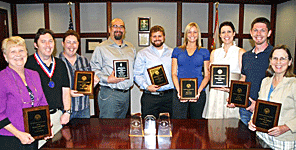 Representatives of the St. Augustine Alpha Xi Eta chapter of Phi Theta Kappa honor society told local St. Johns County Historic City News reporters that they presented the District Board of Trustees of St. Johns River Community College with awards received by the chapter at recent PTK regional and international conventions.
Local Alpha Xi Eta chapter Faculty Co-advisor Nell Freeman, Richard Fife, Heather Puhl, Mark Lechak, Kenneth Maxwell II, Diana Davis, Rebekah Danielson, Joshua Thompson and Faculty Co-advisor Kim Hakala attended the PTK state and international conventions and returned with an abundance of honors and accolades in recognition of the chapter's activities.
At the regional level for Florida, first place awards were presented to Joshua Thompson for art, Rusty Springfield for music composition and K.C. Maxwell for short story competition. Aubrie Simpson was presented an award for Distinguished Officer, and Nell Freeman was honored as a Distinguished Advisor.
The chapter was presented with the Distinguished Chapter Award, as well as Hallmark Awards in service, scholarship and leadership.
At the international level, Simpson and Freeman were recognized with Distinguished Officer and Distinguished Advisor awards, respectively, and the chapter received the Distinguished Chapter award. The chapter was also recognized as a Five Star Chapter and received a Hallmark Award for service.
In addition, the Alpha Xi Eta chapter and advisors were presented a plaque at the International Convention in appreciation of support for Rebekah Danielson as Division II international vice president. Danielson served as the Alpha Xi Eta chapter president in 2008-2009 before being elected to the position of Division II international vice president last spring. Danielson represented chapters in Alabama, Florida, Puerto Rico, Georgia, Kentucky, Mississippi, Louisiana, Tennessee and Texas.
Phi Theta Kappa is an international honor society which recognizes and encourages scholarship among two-year college students by providing opportunities for individual growth and development through participation in honors, leadership, service and fellowship activities. Members must have completed 12 or more hours of college coursework and must have a minimal 3.5 grade point average.
Share your thoughts with our readers >>