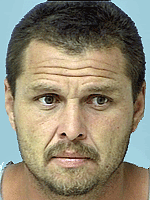 On Monday evening, Historic City News was informed that investigators with the St. Johns County Sheriff's Office Special Victims Unit have arrested a 36 year-old man on a warrant alleging five sexual battery charges — four of which carry $1 million bond each; the fifth is a capital offense that does not allow the defendant to be released on bond.
Because of the age of the victim in these crimes, and in order to protect the victim's identity, Historic City News will only publish basic information about this case as it moves to trial.
"A heinous crime has been uncovered here," Sergeant Charles E. Mulligan told Historic City News reporters. "Not only does the law require us to limit the information that we release, but, more than that, it's the right thing to do."
What we do know about this case is that information was received by the St. Johns County Sheriff's Office that the defendant, 36 year-old David Manuel Martinez, who resided at 2661 Usina Street in St. Augustine, has allegedly engaged in inappropriate contact with a minor child.
Investigators learned that, over a course of time, Martinez committed multiple sexual batteries against a female victim who was under the age of 12 years-old.
Florida Statutes say, "A person 18 years of age or older who commits sexual battery upon, or in an attempt to commit sexual battery injures the sexual organs of, a person less than 12 years of age commits a capital felony."
Investigators collected evidence related to the allegations and filed an affidavit with the State Attorney's Office who obtained a warrant for Martinez' arrest. The arrest warrant was served and Martinez was confined in the St. Johns County Detention Facility at 6:47 p.m. on Monday, October 18th.
Martinez made his first appearance before a St. Johns County Judge yesterday and will remain in custody as he awaits his next court date.
Share your thoughts with our readers >>