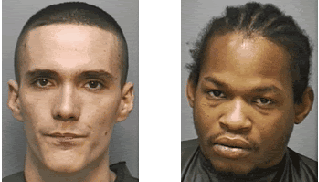 Flagler County Sheriff's Office Public Information Officer Debra Johnson reported to the St. Johns County local news desk that two St. Augustine men were being held in the Flagler County Inmate Facility on charges they forced their way into a Bunnell home and robbed the resident late Sunday evening.
Emmett Tatter, 21, of Narlin Drive, and Johnathan Allen, 22, of Trillo Street, are both charged with home invasion robbery, grand theft and aggravated assault with intent to commit a felony. Both are being held on $25,000 bond.
Deputies were called to a home on Sawgrass Road in Bunnell around 11:42 p.m. The victim told deputies he was lying on his bed when the door was kicked open and two men entered. One man held a knife to the victim's throat and another pointed a .22 caliber rifle at the victim's head.
The two demanded cash and valuables. The victim told deputies the men took his wallet, cell phone and more than $2,000 in cash. Access to the home was gained by removing a window air conditioning unit from another bedroom, according to the victim.
Sheriff's Deputy Cpl. Greg Tietje located the two men after making a traffic stop in the area of the robbery. The victim was able to positively identify the two men. The victim's cash, wallet, cell phone and rifle were recovered.
"These are two dangerous individuals who need to be kept off the streets," said Sheriff Donald W. Fleming.
Share your thoughts with our readers >>