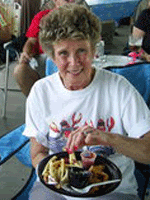 Lois Frances Butler, age 74, of St. Augustine, died on April 3, at her home. She was born in Jamaica, Queens, New York and had been a resident of St. Augustine since 1988, moving here from Freeport, Long Island, New York.
Lois worked in customer service in the insurance industry for many years. She was a loving mother and grandmother, and was a member of Corpus Christi Catholic Church.
She is survived by her daughter, Debi Randel and her husband John of St. Augustine, a son, Arnie Hoffmann and his wife Sharon of Selden, N.Y., grandchildren, Heather Randel, Traci Blevins, Jessica Randel, Ritchie Hoffman, Kristan Hoffman, and Ryan Hoffman, and two great grandchildren, Alexa and Dillon. She was preceded in death by a great grandson, Kyler.
Funeral services will be held at 10:00 a.m. on Wednesday, April 7, at St. Johns Family Funeral Home with Rev. William C. Mooney officiating. A visitation will be held from 6:00 to 8:00 p.m. on Tuesday at St. Johns Family Funeral Home.
St. Johns Family Funeral Home is in charge of arrangements.
Share your thoughts with our readers >>