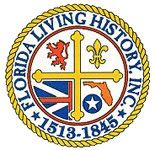 On June 19th, local Historic City News reporters will be on hand for the first annual heritage food event of the living history group, Los Compañeros de la Cocina (The Companions of the Kitchen).
The founding of Florida in the 16th century saw the blending of European, African and Native American foodways and the birth of the first uniquely American cuisine.
Florida's food-related firsts include:
• the first introduction of Old World livestock, food crops, and draft animals into the continental U.S. by Don Juan Ponce de León at the first European colony in 1521
• the first restaurants/bars in the continental U.S. – the Olmos family ran a taberna in St. Augustine, c. 1576, while another was owned by Don Martín de Argüelles the Elder, the city's first alcalde (mayor)
• the first agricultural exports in the continental U.S. – onions began to be shipped from St. Augustine to Havana in the 1580s
• the first public market in the continental U.S., established by Governor Don Gonzalo Méndez de Canzo in 1598, who also built the first grist mill and the first slaughterhouse
• the first cattle ranches in the continental U.S. – the Hacienda de la Chua (now Alachua County, FL) was founded c. 1640 by the Menéndez Marquez family; other 17th-century, Florida ranches included Abosaya, Acuitasigue, and la Rosa del Diablo
• the first cattle drives in the continental U.S. – by the late-1640s, Native American and African vaqueros (cowboys) were driving herds to St. Augustine, where the cattle were slaughtered, the beef sold, and the hides and tallow exported to Havana.
Los Compañeros will present interpretations and demonstrations of the foodways of early Florida and the southeastern U.S. on June 19th from 10:00 a.m. until 4:00 p.m. at the Colonial Spanish Quarter Museum in St. Augustine.
Established in 2008, La Compañeros de la Cocina is a venue for those interested in studying and re-creating the food and foodways of Florida and the southeastern United States in the 16th and 17th centuries. The group's goal is to assist in the authentic and historically accurate reproduction of our region's early cuisine and culinary customs (within the bounds of modern hygiene and safety standards).
This annual, heritage Event is sponsored by La Compañeros de la Cocina, with the support and assistance of volunteers from Mission San Luis in Tallahassee, as well as the City of St. Augustine's Department of Heritage Tourism, and the St. Johns County Tourist Development Council.
For more information on La Compañeros de la Cocina, please call, toll-free, 1-877-FLA-HIST (1-877-352-4478). Los Compañeros de la Cocina is a member unit of Florida Living History, Inc., a 501(c)(3) non-profit, educational organization dedicated to the support of living history activities, events, and portrayals related to the history of Florida.
Share your thoughts with our readers >>