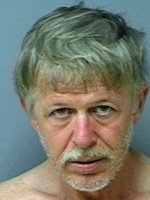 Local St. Augustine reporters at Historic City News have learned that on three occasions Saturday, police were dispatched to 12 Anastasia Boulevard to respond to E-911 hang-up calls.
Just after 8:00 p.m. Saturday night, Police Officer Matt Mitchell made contact with George Darnell McMurrain, a 53 year-old homeless man who was temporarily staying in a room at The Budget Inn.
When police responded to the second E-911 call from McMurrain, he was asking for a ride to the liquor store. McMurrain was warned that if he continued to call the emergency number for non-emergencies, he would be arrested for abuse of E-911 services.
Officer Mitchell was standing in the doorway talking to McMurrain, when he observed a small amount of marijuana in plain view.
Community Affairs Officer Barbara Stevens of the St. Augustine Police Department reports that McMurrain was taken into custody and charged with misusing E-911 and possession of less than 20 grams of marijuana.
McMurrain is still in custody at the St. Johns County Detention Facility until he posts a $400 appearance bond.
Share your thoughts with our readers >>