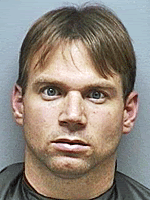 For the second time in less than two weeks, Historic City News has learned that Flagler County Sheriff's detectives have arrested a man for possession of child pornography.
Mark Twain Spurlock, 32, of Pine Crest Lane, was being held in the Flagler County Inmate Facility Saturday on 50 counts of possession of child pornography. His bond has been set at $250,000.
Spurlock was arrested on a warrant by Sheriff's detectives at his home Friday evening.
Detectives began their investigation when Spurlock's wife contacted the Sheriff's Office with suspicions that her husband had downloaded the pornography onto a computer they shared. At that time, the computer was turned over to Sheriff's investigators. Detectives sent the computer to the Florida Department of Law Enforcement's forensic lab which downloaded the images and a warrant was obtained for Spurlock's arrest.
"Child pornography is a malignant growth on society today, especially with the easy access provided by the Internet. This growth needs to be removed and removed permanently. Part of the solution is identifying those who download this filth," said Flagler County Sheriff Donald W. Fleming.
Share your thoughts with our readers >>