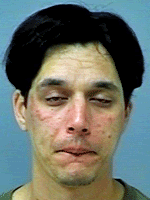 The local St. Augustine news desk has learned that shortly after 10:00 last night, while on bicycle patrol in the area of Nesbit Street and Chapin Street, Police Officer Thomas Lawhun observed a man leaned over in the driver seat of gold Ford SUV.
The driver was identified as 28 year-old Shane Mark Douglas, who resides at 312 Roosevelt Terrace in St. Augustine.
When Officer Lawhun and Officer Kevin Carroll attempted to arouse Douglas, they observed a black pipe in his left hand, of the type commonly used to smoke crack cocaine.
Douglas refused numerous verbal commands to roll down his window and identify himself, according to the police report.
After Officer Lawhun identified himself as a law enforcement officer, Douglas locked the doors to the SUV and fled the scene; driving south on Nesbit Street.
Lawhun advised dispatch and other officers of the description of both the SUV and the driver.
Officer Jennifer Doucet observed the vehicle at the intersection of King Street and Ponce de Leon Boulevard.
Doucet, who was driving a marked patrol car, attempted to conduct a traffic stop by activating her emergency lights and siren. Douglas refused to stop and continued north on Ponce De Leon Boulevard. After following Douglas for about a mile, Doucet deactivated her emergency equipment.
Douglas was said to have put on the SUV's hazard lights and to motion for the officers to follow him by waving his arms outside the window.
At the traffic light at SR 16 and Ponce De Leon Boulevard, officers were able to stop and make contact with Douglas, who was identified by his FL ID card.
A computer check revealed Douglas' driver's license was suspended for DUI twice, failure to pay twice, financial obligation twice, and finally cancelled for failure to appear for traffic school.
While conducting a search of his vehicle, a white waxy substance was found in the center console which tested positive for cocaine.
Community Affairs Officer Barbara Clifford of the St. Augustine Police Department reports that Douglas remains in custody in lieu of $4500.00 bond, charged with possession of cocaine, fleeing and eluding police and driving while license suspended or revoked.
Share your thoughts with our readers >>