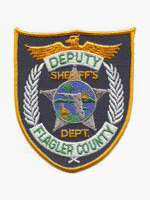 Public Information Officer Debra Johnson told local St. Johns County reporters with Historic City News that a 30-year-old Palm Coast man who is being held in the Volusia County Branch Jail is facing seven felony charges in Flagler County stemming from a Sunday night kidnapping of a Palm Coast woman and her children.
The 35-year-old female victim told Flagler County Sheriff's deputies that Major Harris III who resides at 93 Redmill Drive in Palm Coast, kidnapped her and her two young children early Sunday morning after she attempted to break off a rocky relationship with the man.
The victim said that around 9 p.m. Saturday, Harris became angry over the break up. He grabbed the victim, throwing her down on the floor before pinning her down and pouring soda into her mouth until she choked. He then grabbed her by the throat and attempted to strangle her. She was able to get free of him and flee into a bedroom, but Harris stormed in with a handgun, pushed it into her eye and pulled the trigger, telling the victim he was going to kill her. The gun jammed and did not fire, deputies reported.
Harris told the victim he would kill her and her children, 6 and 10 years of age, if she tried to leave, the victim told deputies. He then forced the woman to have sexual intercourse.
Early Sunday morning, Harris took the victim and her children at gunpoint to Deland. The victim said that fearing for her life and that of her children, she reassured Harris throughout the day, that they could work things out and get back together.
At one point, she convinced Harris to let her go into a convenience store to get food for the children and headache medicine. Once inside the store, the victim called the Deland Police Department who arrived and were able to take Harris into custody. Deland Police arrested Harris on an outstanding warrant and a charged of carrying a concealed weapon.
Flagler County deputies have charged him with aggravated battery with a deadly weapon, aggravated assault with a deadly weapon, false imprisonment, kidnapping, sexual battery, felony battery and possession of a firearm by a convicted felon.
"This man could have wiped out an entire family in just a few seconds. The victim acted wisely in order to keep herself and her children from harm. I am grateful that law enforcement could intervene before a tragedy occurred," said Sheriff Donald W. Fleming.
The investigation is ongoing and additional charges may be pending.
Anyone with information on these incidents is asked to contact the Flagler County Sheriff's Office at (386) 313-4911 or Crimestoppers at 1-888-277-TIPS (8477).
Share your thoughts with our readers >>