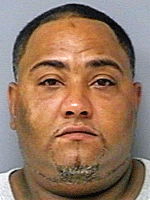 Local St. Augustine reporters at Historic City News have learned that a Helen Street man has been taken into custody and charged with assault against a police officer after he squared off with a patrolman who was responding to a noise complaint at his address.
34 year-old Anthony Perez was sitting in the front yard of the residence at 28 Helen Street when Officer Michael Linskey arrived at about 1:00 a.m. Saturday morning.
According to police reports, Officer Linskey asked Perez who lived at the residence. Linskey said Perez refused to answer him; despite being asked several times.
Perez jumped out of his chair and threatened Linskey. Perez assumed a fighting stance and aggressively approached Officer Linskey. Linskey says that he pulled out his Taser and told Perez to calm down.
Perez was agitated and continued to threaten the officer. At that point Officer Linskey told Perez he was under arrest.
Police say Perez' roommates heard the commotion and came outside to calm Perez down. Once the roommates calmed Perez down, Perez went inside and into his bedroom.
Backup arrived at the scene and officers entered the house and placed Perez under arrest for assault on a police officer.
Community Affairs Officer Barbara Stevens of the St. Augustine Police Department reports that while in route to the jail, Perez stated that he was very intoxicated and knew that he should not have acted the way he did.
Share your thoughts with our readers >>