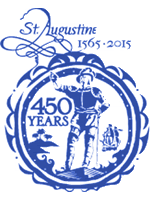 In this week's issue of The St. Augustine Report, distributed for the City Department of Public Affairs, George Gardner wrote, "Management of the City's 450th anniversary will be shifted to a community-based non-profit foundation with expected approval by the City Commission Monday."
The regular session begins at 5:00 p.m. in the Alcazar Room at City Hall.
"The code of silence will be lifted," Mayor Joe Boles told a steering committee appointed last year by the commission, as he won its approval to disband in favor of a foundation.
As a government-appointed body, the group of regional leaders was unable to discuss commemoration plans outside of periodic meetings.
City Manager John Regan told the group the shift "moves us from the conceptual to the developmental and implementation phases."
Regan said that, with commission approval, the steering committee will be formally disbanded, an agreement executed between the city and foundation, and the city will provide $275,000 to the foundation as "seed money."
Additionally, Jamie Alvarez, 450th program coordinator, will be shifted to the foundation.
Attorney and former St. Johns County Chamber Chairman Don Wallis and Jacksonville businessman and city resident Colin Bingham developed the foundation plan, similar to that of the Jamestown 2007 commemoration.
Regan said, with City Commission action at its regular meeting Monday, "the foundation will begin its work Tuesday, reaching out to governments, the community, and businesses."
Share your thoughts with our readers >>