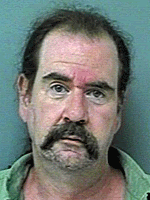 Historic City News reporters were notified that the St. Johns County Sheriff's Office has arrested a 44 year-old man on charges stemming from a traffic crash on March 20th of this year which claimed the life of Jeanne Aramini, 76, of St. Augustine.
Christopher Deforest Jones of Shelton, Connecticut, was arrested this morning on a warrant obtained by traffic crash investigators.
Following the completion of his investigation, Deputy J.D. McGinnis concluded that Jones ran a stop sign while driving westbound on Shores Boulevard; causing the collision.
Further, the findings revealed Jones was driving the motor vehicle without a valid driver's license and on the night he crashed into Aramini's vehicle, his blood alcohol level was reported to be 0.138.
The victim died several days later after succumbing to injuries sustained during the crash.
Jones was booked into the St. Johns County Jail; charged with DUI Manslaughter, DUI with Property Damage, DUI, and Driving a Motor Vehicle without a License resulting in a death.
Jones is being held in lieu of bonds totaling $112,500.00 on all charges.
Share your thoughts with our readers >>