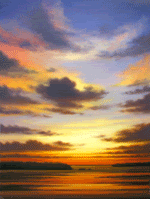 Stellers Gallery of Ponte Vedra informed Historic City News that they will exhibit the work of nationally-recognized oil painters Henry Von Genk, III and Peter Pettegrew as part of a collection entitled Masters of the Southern Landscape.
The opening of the exhibit will be held at Stellers Gallery on Friday, May 21st from 5:00 p.m. until 8:00 p.m. at 240 A1A North, Ste. 13 in Ponte Vedra Beach.
According to gallery owner Hillary Tuttle, as part of the exhibit, Von Genk and Pettegrew will be collaborating on two paintings in the future. Each will start a painting and then leave it to the other to complete.
Von Genk's landscape work has been displayed at galleries, museums and commercial mural installations worldwide, yet he resides and works in northeast Florida. Von Genk's work is widely collected and respected in the oil painting field and offers the viewer a unique and visionary interpretation of our natural world.
Pettegrew's impressionistic paintings are also highly collected and feature landscapes painted by the artist who is a naturalist and outdoorsman. Pettegrew works and resides in central Florida.
Stellers Gallery at Ponte Vedra has displayed the works of Von Genk and Pettegrew since 2002.
"We are very excited to feature Henry and Peter together and appreciate their relationship as long-time friends and professionals in the fine art world. We are honored to host them on May 21st," said Tuttle.
Share your thoughts with our readers >>