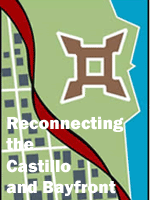 St. Augustine Public Information Coordinator Cathy DuPont informed local Historic City News reporters today that the community will have an opportunity next week to provide input on the city project, Reconnecting the Castillo & the Bayfront.
City officials have been promoting a plan to better connect one of St. Augustine's most important historic attractions with the city's Spanish Quarter Museum and other attractions currently separated by a four lane state highway.
The City will hold the first of four public meetings on Thursday, September 16th at 6:00 p.m. in the Alcazar Room at City Hall, located at 75 King Street.
According to DuPont, the open house is an effort to include the community in the process by providing this opportunity to review issues and provide feedback that will be the basis for the conceptual designs of the A1A corridor between the Castillo de San Marcos and the Bridge of Lions.
Members of the project team of Halback Design Group will be available to answer questions.
Board and maps will be posted for review and a brief presentation will occur at 6:00 p.m.
There is an online survey about the project for residents and visitors at www.staugustinegovernment.com through Tuesday, September 14th at 5:00 p.m.
Share your thoughts with our readers >>