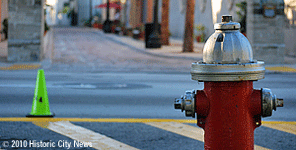 For many years, Daniel D. Holiday has been known as the preeminent sandal maker on Aviles Street, and, today, as one of the final touches of the ancient street's makeover is completed, Holiday told Historic City News that the City has finally taken its most important step.
"I have tried for years to get the City to clear the parking spaces that block visitors in the Plaza from crossing King Street," Holiday said. "I told Jeremy Marquis at Halback Design Group that until there is an opening for a crosswalk, shoppers and tourists will not venture through traffic to see what we have down here."
Albeit more than five years since he first asked for the City's help, Holiday lauds heavy praise on St. Augustine's new City Manager, John Regan, for taking action on what Holiday considers to be "overdue relief" for Aviles Street merchants.
"The Old Town Neighborhood Association has also asked the City to open an area to make it safer to cross," according to Holiday.
At issue, in part, is who owns King Street — the City or the State. Former City Attorney Geoff Dobson says that the State controls that section of road. "The City cannot just take it upon themselves to create a crosswalk on State property," Dobson said. "And, if they did, who would be responsible to maintain it and who would be liable if someone were injured in it?" Dobson, who is former General Counsel for the Florida Department of Transportation, says that the State might hypothetically say to the City, "you maintain part of it, you maintain all of it" something the City would not want the State to do.
So, to what good fortune do we owe relief to Holiday, and other Aviles Street merchants, who are grateful for the clear view of their remodeled street from the Plaza; arguably one of the most significant destinations downtown?
It may be as simple as two words … "fire hydrant". Fire codes require that hydrants be maintained free and clear of obstructions, including parked cars, in order for firefighters to have quick access to water in an emergency. There have been occasions in the past where one or more cars, parked in the spaces adjacent to the hydrant, made it difficult for the Fire Department personnel to reach the hydrant with fire hoses and equipment.
We tried to reach Regan at his office today, however, we were unsuccessful.
Photo credits: © 2010 Historic City News staff photographer
Share your thoughts with our readers >>