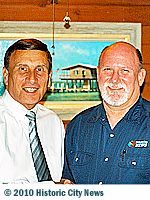 U.S. Congressman John Mica was in St. Augustine today for a speaking engagement before a capacity crowd attending Mobility Summit 2010 this morning — Historic City News Editor Michael Gold and eight other local Republican Party officials were guests of the congressman for lunch and updates on legislative issues this session.
Mica, who is the ranking Republican member of the House Transportation and Infrastructure Committee, was second to speak, after Cathy Brown, at the River House this morning. Mica's District Representative for St. Johns, Putnam and Flagler Counties, Wiley Deck, told Historic City News, "There was a full house."
Some attending the Mobility Summit 2010 were Florida Commission for the Transportation Disadvantaged Chairman J.R. Harding, Ed. D., Florida Department of Transportation District Two Secretary Alan Mosley, as well as members from the Federal Transportation Administration in Atlanta, as well as officials from city, state and regional government.
Tomorrow, Mica will address an Economic Development Summit meeting here in St. Augustine. While speaking to Republican Club of Greater St. Augustine President Gary Bruce and Secretary Pat Greenfield, the congressman observed that nearly every American family has been affected by the economic downturn.
"Unfortunately," as Mica told St. Johns County Republican Party Chairman Harlan Mason, "the Federal Government cannot spend and tax its way to prosperity."
Randy Brunson and his wife Carol spoke with the congressman about the future of our economy. Mica insists that government must reduce taxes, provide incentives for investment, create private sector jobs and keep employment in America.
"Congress must stop the funding of government bailouts and rewarding failed entrepreneurs," Mica told those of us at lunch. "Congress must balance its budget and adopt sound policies relating to financial and investment activities."
One of St. Augustine's Republican leaders, Ed DuPont, and Congressman Mica exchanged ideas about the current administration's understanding of the free enterprise system. "Some of them in the highest positions have no business sense at all," Mica said.
Photo credits: © 2010 Historic City News staff photographer
Share your thoughts with our readers >>