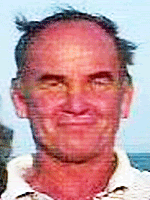 Michael Alan Pleaugh, 51, of St. Augustine, FL., passed away on April 14, 2010 with family at his side.
Michael was born on January 21, 1959 in Marquette, MI., and resided in St. Augustine since 1988 with his wife Susan and two children Amy and David Pleaugh.
He worked many years as a heavy equipment operator and semi truck driver.
He was preceded in death by his parents, Eugene and Mary Pleaugh and brothers, Ronald and Roger Pleaugh. Michael is survived by his siblings, Eugene, Wayne, Cassie, Carol, Darlene, Robert, Patrick and Scott Pleaugh, all from Marquette, MI.
Funeral Mass will be held 9:00 AM Monday at Corpus Christi Catholic Church, Reverend Father William Mooney officiating.
Flowers are gratefully accepted or donations may be made to Comunita Cenacolo America of St. Augustine, FL, hopereborn.org
Visitation will be held from 4-7 PM Sunday at Craig Funeral Home.
Share your thoughts with our readers >>