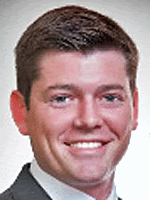 Yesterday evening, St. Johns County Commissioner Mark P. Miner, who will turn 27 years-old on Wednesday while deployed in Kuwait with the Florida National Guard, reacted on the social networking website "Facebook" to the announcement that Governor Charlie Crist is changing his political party affiliation.
Miner wrote, "I have withdrawn my support for Charlie Crist and endorsed Marco Rubio for the United States Senate."
When Council on Aging Executive Director Cathy Brown asked Miner, "why???", his new wife Cheryl replied, "Because Crist abandoned his principles when he abandoned his party."
Also quoted yesterday, newly elected GOP Chairman and Florida Senator John Thrasher, R-St. Augustine, said that the portrait of Crist that was hanging on the wall at the Florida Republican Party headquarters will be sold on E-Bay.
To the surprise of absolutely no one, Crist made it official this week that he was running for the Senate as a candidate with no-party affiliation; breaking the news in a speech that was carried live on national television.
Reaction was swift – and predictable. Republicans and Democrats alike said Crist was putting ambition above party. Crist of course said the opposite.
According to Crist, running for re-election as governor would have actually been taking the easy way out. Running up the middle in the Senate race, he said, was "the right thing for America, it's the right thing for Florida, it's the right thing for people."
But even Crist, on what a Rubio spokesman said this week would be "the best day of his new campaign," acknowledged the road ahead without a party could be tough.
"I know it's uncharted territory," he said to a crowd of people and television cameras in St. Petersburg. "I don't have either party helping me. I need you."
Rubio and Meek pounced, appearing on 24 hour cable news network as soon as Crist finished speaking. Rubio scheduled a press conference at the site of his son's championship tee ball game, making it the best covered little-league baseball game this side of Williamsport, Pa.
Rubio bashed Crist for "still not getting it," and then coached first base. He also scheduled several events to thank Republican volunteers. "I am a Republican because it is the natural home for all Americans who believe in limited government, individual freedom, a strong defense and traditional values," Rubio said.
Democrats did their best to keep Crist and Rubio in the same boat, even if they are no longer in the same party.
"There are two clear winners from today's announcement – Kendrick Meek and the people of Florida," incoming Senate Democratic Leader Nan Rich, D-Westin, said in a statement released quickly by Meek's campaign.
"Kendrick has remained focused on the people of this state, never getting distracted by the petty bickering and political backbiting consuming Gov. Crist, Speaker Rubio, and the Republican Party of Florida," Florida Democratic Party chairwoman Karen Thurman added, revealing how Meek thinks he can squeeze into the Crist-Rubio clash of the titans.
Republicans were equally ready with tart statements, swiftly denouncing Crist for "abandoning his party."
"Charlie Crist left the Republican Party a long time ago – today he finally had the courage to make it official," was House Majority Leader Adam Hasner's one-sentence reply.
Their face-to-face reactions were not much more magnanimous. Representative David Rivera, R-Miami, a South Florida congressional candidate said took it a step further, said he's severing all ties with Crist. "I will not be seen anywhere in public with the governor," Rivera said. "I will not participate in anything that involves Governor Crist."
Most other lawmakers said they could at least share a room with Crist, even if they were deeply, deeply disappointed by his decision. But there was some doubt on the final day of session whether lawmakers would hold the traditional Sine Die ceremony, which is usually attended by the House and Senate leaders and the governor.
Reaction to the decision was more muted in the Capitol, where lobbyists crowded around televisions on the fourth floor, in silence, to watch Crist bolt the GOP. The most audible reaction, from those gathered to watch Crist sever his Republican ties, came when the newly-independent governor said he did not believe in demagoguing opponents.
The "third chamber," as the area where lobbyists congregate is sometimes called, snickered in disagreement.
Perhaps registering the disappointment of the lobbying corps, however, were bumper stickers floating around the Capitol in the run up to Crist's speech that said "See Ya Charlie."
"Thanks for Jim Greer, Europe trips, Stan and Solar Pool Heaters," the bumper sticker said. The message was signed "Your Friends in Florida."
Share your thoughts with our readers >>