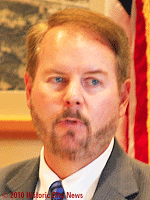 The vote taken during the April 6th meeting of the St. Johns County Board of County Commissioners regarding changes in the terms of County Administrator Michael Wanchick's contract have been requested by several readers.
Historic City News referred to actions taken by several of the commissioners during the meeting in an article published on November 7, 2010 and titled "Did county commission create another dictator?"
As a matter of convenience for readers who would like to read the official record of that portion of the meeting as published by the St. Johns County Clerk of Court; we are republishing those selected minutes here.
–
04/06/10 Board of County Commissioners regular meeting
–
7b. County Administrator's contract
–
Mays said the item he had brought forth was for the County Administrator's contract.

He noted that there was a strong likelihood that he would not be running for his seat again. He said the Board had worked for cost effective management, efficiency, professionalism and businesslike decision making.

He added that he had nothing to do with Wanchick's appointment.

He noted that a lot had happened since 2007 and the achievements that had been made were incredible, with credit due to Stevenson and Sanchez and the rest of the Board, which had been present since he had arrived.

He said under Wanchick's leadership they had done an amazing job with the restructuring, reducing taxes during an economic crisis, maintaining essential services and the quality of life, and preserving the necessary workforce.

He noted Wanchick had made prudent business decisions and provided outstanding leadership. He said it was the most functional administrative group with which he had ever been involved. He said the County government was run exceeding well, and was extremely efficient.

He stated that Wanchick's buyout was only one year, and he proposed that they add at least another year to his buyout, or termination clause, in order to provide stability to the County.

He said Wanchick was a valuable employee, and they wanted to let him know that he was important to them.

(11:54 a.m.) Sanchez said he had no problem with that, and he was very satisfied and very impressed with Wanchick's performance. He said the public was very impressed as well. He said he would totally support May's proposal and maybe even make it a three year cancellation clause.

Bryan said he agreed completely. He said it was difficult and expensive to fill positions. He said it was important to keep the stability, and he would support the recommendation.

Quinn said when he came to the Commission, he had 42 years of government and military experience, and Wanchick would measure up to any leader he had worked with in those 42 years.

He said he was needed in St. Johns County, and he had proved his worth. He said he would strongly support the proposal.

Stevenson said she had great respect for Wanchick, and the Board, but would like to have the luxury of reading the contract before they changed it.

Bryan said the only thing that would change would be the months.

(12:00 p.m.) Motion by Mays, seconded by Sanchez, to revise and amend that certain document known as the Professional Services Agreement between Michael D. Wanchick and St. Johns County, Florida, originally dated on or about the third day of November, 2009, revising Section 2, Sub A, to read "If County Administrator is terminated by the Board for reasons other than cause, as defined under the laws of the State of Florida, the County agrees to provide County Administrator a monetary lump settlement as liquidated damages equal to 36 months salary at the then current rate of pay, plus payment for accrued, but unused vacation, sick leave, and continuation of the County Administrator's individual health and insurance plan at a County expense of 36 months."

Stevenson said she could not support the motion, based on the need for some basic process. She noted it was a $400,000 commitment, and she would like to review the conditions of the contract.

She emphasized that she held Wanchick in high esteem and it had nothing to do with his performance.

(12:03 p.m.) Motion carried 4/1, with Stevenson dissenting.

(12:03 p.m.) Wanchick said it was rare for him to be speechless, and he was close to that.

He thanked the Commission and said he understood Stevenson's concerns. He said it was important to have stability in the County government, and he looked at that as an extension of his staff. He said if he was stable, his staff would be stable and would create an environment for the community to thrive.

He added that their action was to extend his severance, was not a golden parachute, and was only if he was terminated without cause. He said he wanted the public to have the trust in him that the Board had in him.

He thanked them for that trust and stated that he did not take it for granted.

(12:06 a.m.) Sanchez asked the County Attorney to draw up the new contract and he would sign it.
The meeting recessed at 12:06 p.m.
Photo credits: © 2010 Historic City News staff photographer
Share your thoughts with our readers >>