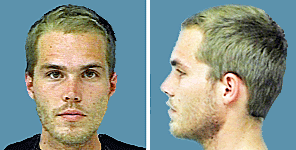 A 26-year old transient is still being sought nationwide as a person of interest in connection with the disappearance of a 45-year old St. Johns County woman earlier this month.
An arrest warrant has been issued for the subject, identified as Joseph Dean Roberts, 26, on a charge of grand theft auto. He is a person of interest into the disappearance of 45-year old Brittany Jeniveve Tavar. She was last heard from at 12:00 p.m. on July 6th.
Tavar's dogs were also missing; however, they were located in South Carolina this week.
The investigation has revealed that a police officer at the Evanston Police Department in Wyoming, conducted a traffic stop on Tavar's vehicle, a dark blue Toyota Rav4, at 2:00 a.m. on July 11th. At the time, Tavar had not been reported missing and Roberts, who was driving, was given a verbal warning for excessive speed. The victim was not in the vehicle at that time.
Over 12 hours later Roberts entered a Wal-Mart in Ontario, Oregon. There he purchased a tent, a vintage styled black t-shirt and tan cargo shorts. He was also seen in the store wearing a dark colored t-shirt and tan colored shorts.
Roberts is described as a white male, 26 years old, 6'1" tall, 170 pounds with brown hair and hazel eyes. Tavar is a white female, 45 years old, 5'7" tall, 120 pounds with blonde hair and brown eyes. The 2004 Toyota Rav4 displays Florida license plate "Q66 2NJ".
A Nationwide alert has been issued for the suspect and the victim as the investigation continues.
The U.S. Marshal Service is actively assisting in the investigation and the F.B.I. has opened a case file. Anyone with any information concerning this investigation is asked to contact Detectives George Harrigan or Charles Brantley at the St. Johns County Sheriff's Office at (904) 824-8304. You can also email tips to crimetips@sjso.org, or through your local CrimeStoppers organization.
Tavar's family has offered a $25,000 reward for information leading to the arrest of Roberts.
Share your thoughts with our readers >>