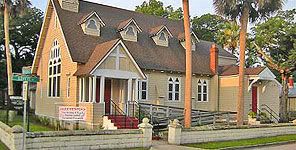 Historic City News readers are invited to enjoy the Classic Film Series presented by The Cyprian Center for Expressive Arts each Monday evening.
All movies are shown on the big screen at The Cyprian Center at 130 Martin Luther King Avenue in Lincolnville and admission is free.
6:45 p.m. – Introduction by local author and film historian Robert Pohle
7:00 p.m. – Film will begin
Group discussion and refreshments immediately following each film.
Monday Film Schedule:
February 8, 2010 – West Side Story (1961)
Natalie Wood is incandescent in Leonard Bernstein and Stephen Sondheim's musical transformation of Shakespeare's Romeo and Juliet into a tale of urban gang war and racial prejudice.
February 15, 2010 – East of Eden (1954)
The ultimate iconic screen rebel, James Dean, appears in his greatest performance. This adaptation of John Steinbeck's classic novel places the Cain and Abel story in a context that remains forever contemporary.
February 22, 2010 – Glory (1989)
Denzel Washington won his first Oscar in this magnificent story of the 54th Massachusetts, the first African-American unit in the Union Army. Glory is considered by many film historians to be not only the finest Civil War period film, but one of the finest films, period.
March 1, 2010 – Advise and Consent (1962)
Henry Fonda plays a nominee for Secretary of State, whose confirmation hearing in the U.S. Senate turns into a power struggle of Titanic size; revealing aspects of the private lives of some of the key players which lead to tragic results.
For more information, visit their website www.cypriancenter.org
Share your thoughts with our readers >>