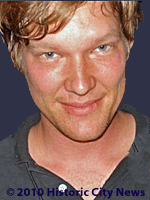 More questions linger than answers as Historic City News local reporters continue looking into the recent administrative leave of 31 year-old Ryan R. Dettra from his position as General Manager of the St. Augustine Amphitheatre.
Historic City News first broke the story that Dettra had been placed on administrative leave from his $70,875 a year position by Parks and Recreation Director Troy Blevins on June 11th.
At the outset, St. Johns County spokesperson Karen Pan confirmed "Ryan Dettra was placed today on paid administrative leave. I apologize that I cannot provide further details." Little more has been learned in the past two weeks, however, in the interim, Dettra continues to receive full pay.
What has become clearer is that Dettra's "leave" may not be so much punitive — as protective; since details of Dettra's assertions in a coarsely worded e-mail were made public.
Under Florida's "Whistle Blower" law, agencies or independent contractors are prohibited from taking retaliatory action against any person who discloses information to an appropriate agency alleging improper use of governmental office, gross waste of funds, or any other abuse or gross neglect of duty on the part of an agency, public officer, or employee.
Pan told Historic City News yesterday afternoon that "Dettra was placed on paid administrative leave while we investigate the serious allegations he made," sending a signal that getting to the bottom of Dettra's complaint has been given a priority over punishing him for the insubordinate tone of his accusations. "This is a common practice," Pan said.
One reliable source who previously worked with Dettra described him as "high strung" and told Historic City News reporters that when Dettra was asked for basic answerability, he was "sometimes a bit arrogant". A source who is aware of what it's like to try to supervise Dettra said "He seems passionate about the success of arts and the amphitheatre," but added that he could become haughty "when not given the latitude he feels he needs to get a job done."
In Dettra's email, he accuses Wanchick of being "100% political" when he asks the question, "how can we save money" at town hall meetings.
Dettra also criticizes Wanchick, saying that, "It is under his guidance that we find ourselves losing $824.18 – $1,346.24 per day in potential revenue," referring to the yet unopened Ponte Vedra Concert Hall. "It is under his guidance that we have a project that has tripled in cost. It is under his direction that we are spending tax payer dollars to solicit private funding through our friends of the Ponte Vedra Concert Hall Board."
Dettra says, "The only things we have heard directly from Michael (Wanchick) are negative."
As recently as March, St. Johns County Administrator Michael Wanchick commended Dettra; recognizing Dettra specifically when he announced that the Northeast Florida Regional Council had presented the county's Cultural Events Division with an Excellence in Economic Development and Tourism award. "Congratulations to Ryan Dettra and the entire staff for their impressive work that greatly improves economic development and tourism in St. Johns County," Wanchick wrote.
Historic City News pressed Pan for an answer on what a "reasonable time" to expect the Administration's investigation of Ryan Dettra to conclude. "Administration is working as quickly as possible on our investigation, but we will take as much time as necessary to ensure a full and thorough review," Pan replied. "We do not have an estimated conclusion date."
Also included in the Dettra e-mail regarding the bidding process on The Ponte Vedra Concert Hall Project, were specific allegations that "Bush Construction won and was not the lowest bidder." Dettra goes on to say, "The project was then put out to bid again. Bush was awarded over $30,000 for compensation and unusable interior design documents."
More serious charges voiced by Dettra include allegations that "no work was performed by Bush Construction, and the plans presented were not adequate for the scope of the job. It delayed the project at leas(t) 6 months."
Speaking about the observed payments and delays, Dettra says, "This cost's tax payer money…. The project went from a few county (employees) working on it, to several employees, to several departments and a steadily rising intangible and tangible price tag."
St. Johns County Clerk of the Circuit & County Court, Cheryl Strickland, said one of her responsibilities is to receive and evaluate concerns regarding fraud, abuse and waste; and when appropriate, conduct an investigation.
In this case, the Clerk's "Fraud, Abuse and Waste Unit" is conducting a concurrent investigation. "The Clerk of Court investigation is independent from us, as it is conducted under a separate constitutional office," Pan told us. "We do not know when it is expected to conclude."
Historic City News asked to clarify if any part of the ongoing county investigation involving Dettra was looking outside of county employees — or if it was solely an internal investigation. We also asked if the investigation of Ryan Dettra, or the allegations raised in his e-mail, were leading toward any criminal investigation.
"The County is not discussing specifics of the investigation until it is complete," Pan said. "The report will be made available upon completion of the investigation."
Share your thoughts with our readers >>