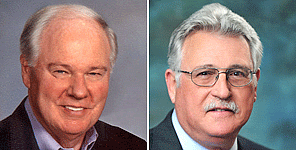 County Administrator Michael Wanchick told Historic City News that at the next County Commission meeting, on November 16th, newly elected commissioners Jay Morris and re-elected Commissioner Ron Sanchez will take their oath of office; solemnizing the commencement of their four terms.
At the same meeting, "We will say goodbye to outgoing Commissioner Phil Mays," Wanchick said. "Commissioner Mays has represented District 4 since December of 2008 when he was appointed by Governor Charlie Crist, and he chose not to seek election for another term."
As an attorney and businessman, Mays has brought significant experience to the Commission that has been invaluable to our community during the past two years.
"Please join me in thanking Commissioner Mays for his service," Wanchick wrote in his bi-weekly report. "We wish him the best for his future."
Morris also brings extensive business and military experience to the commission. He is a Vietnam Veteran who served in the Army, followed by a distinguished business career, including twenty-two years as Executive Vice President of RPM International, Inc.
"I look forward to working with Commissioner Morris and am confident he will represent District 4 and all of St. Johns County very well," Wanchick said.
Sanchez will begin his second term as County Commissioner; following his re-election in the August 24th Primary Election.
Share your thoughts with our readers >>