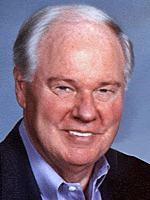 In the race to fill the District 4 seat on the St. Johns County Commission, Ponte Vedra Beach Resident John H. "Jay" Morris turned in his first campaign financial report last week; demonstrating that, for what he lacks in political name recognition countywide, he makes up for in strong financial support in his district.
In fact, with the exception of one Byron Center, Michigan businessman and one Lake Toxaway, North Carolina retiree, all of his reported 77 contributions came from one ZIP code — Ponte Vedra Beach.
Morris reported contributions totaling $26,350.00 in the first quarter; almost 2 1/2 times as much as was raised by every other candidate running for city and county office, combined to date, as reported by St. Johns County Supervisor of Elections, Penny L. Halyburton.
To date, Morris joins former St. Johns County Commissioner Jim Bryant and political newcomer Joseph Alan Mayhew in a three-way contest for the Republican primary election to be held on August 24, 2010 — but it's still early.
Morris says that he has owned a home in Ponte Vedra Beach since 1978 and moved down permanently in 2000. He and his wife, Sue, have been married for 46 years and have two sons and five grandchildren. Their older son, Scott, also lives in Ponte Vedra Beach with his wife and two children.
In a bio published on the Supervisor of Elections website, Morris reports that he attended West Virginia University on an athletic scholarship and received a Bachelor of Science Degree in Marketing. In 1983, Morris said that he received a Master of Business Administration Degree in Finance and Marketing from The Weatherhead School of Management of Case Western Reserve University in Cleveland, Ohio.
Under military experience, Morris listed that he was commissioned as a 2nd Lieutenant in the United States Army. After basic training, he spent 9 months in flight school and served as a combat pilot (flying as a forward air controller) in Phu Loi, Vietnam in 1966 and 1967.
According to Morris, while he was in Vietnam, he was awarded The Distinguished Flying Cross, Bronze Star, Air Medal with 15 Oak Leaf Clusters and Vietnamese Service Cross with Valor. He is said to have obtained the rank of Captain in two-and-a half years and rotated out of Vietnam in July of 1967.
Under work experience, Morris shows that he joined the Armstrong Cork Company and held several management positions in sales and marketing, credit and market research; including being promoted to the first National Account Executive of the company.
At 33 years old, Morris said that he joined the General Tire & Rubber Company to run a multi-million dollar operation in their Chemical Plastics Division. Morris was reportedly recruited two years later to run a small $50 million NASDAQ company and, as Executive Vice President responsible for national and international operations, over the next twenty-two years, took RPM International, Inc. to the New York Stock Exchange as a multi-billion dollar corporation.
Morris listed several Board positions, including; RPM International, Inc., Fifth Third Bank of Northeast Ohio, Ponte Vedra United Methodist Church and Treasurer of The Plantation of Ponte Vedra, Inc.
In his campaign, Morris says that he brings a solid and proven business background to the management level of St. John's County and will work with the other county commissioners to bring solid new job opportunities to the county.
Morris wrote that he is committed to work for all the citizens of St. John's County. "Let my business experience work for you," said Morris. "You'll always know where I stand."
Share your thoughts with our readers >>