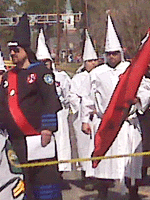 Just before two o'clock today, Historic City News reporters watched televised news coverage of participants and protesters organizing in the small southeastern Georgia town of Nahunta; the county seat of Brantly County.
Participants, who officials say have the proper permits for the rally, are there to express a message that is largely against illegal immigration, according to a press release distributed by the group.
The city square around the Brantley County Courthouse has been roped off for today's event. The KKK participants have been instructed to hold their rally on the east side of the courthouse; while the opposition and spectators gather on the west side.
One news account from the scene just outside Brunswick said, "The KKK members are speaking to the crowd about immigration, gun-owner's rights and sex offenders."
Also seen in Nahunta are members representing the NAACP chanting "fire it up, ready to go." Someone held a sign "racism is ridiculous."
Although some businesses around the courthouse are closed for the day, out of fear the events could turn violent, so far, everything is peaceful.
As expected, there is quite a substantial police presence at the rally; one reporter in Nahunta has counted approximately 115 law enforcement officers from 12 separate agencies on hand to keep the peace.
In an NAACP press release, it was announced that they would be leading a multi-racial group of local community leaders and residents all concerned with the presence of the "historically racially polarizing organization."
Klan members were seen wearing hoods, but no masks, in order to comply with Georgia law.
Share your thoughts with our readers >>