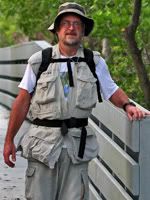 The local Sea Oats chapter of the Florida Native Plant Society reported to the St. Johns County local news desk that the program for their March meeting will be "Wild Florida – Images of Nature from the Panhandle to the Keys".
The meeting is scheduled for 7:00 p.m. on March 9th at the St. Augustine Beach City Hall, A1A at 16th Street.
Paul Rebmann's award-winning photographs contain scenes, flora and fauna from throughout the state. Rebmann is a 26-year resident of Florida, currently living in Ormond Beach, who has spent many hours exploring and photographing the natural wonders of the Sunshine State.
As a longtime member of both the Audubon and Florida Native Plant Societies, Rebmann has learned from many diverse experts, both locally and statewide, about our varied ecosystems and their contents. After studying photography in college, he only participated in casual photography for many years before getting serious and concentrating on nature subjects, now having developed a stock of nature photographs.
This free program is open to the public. Prizes include native plants donated by Leonardi's Nursery and Southern Horticulture. Rebmann's greeting cards, matted prints and select canvas prints will be available for sale. For more information, call Jill Ziebell, Chapter Representative, at 904-471-7239.
Photo credit: © 2009 Historic City News contributed photograph
Share your thoughts with our readers >>