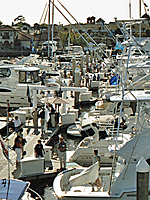 Marine Industries Association of Northeast Florida told local reporters at Historic City News that both new and used boats, vintage boats and all things nautical will be featured May 29th through 30th when they present the St. Augustine Nautical Festival and Boat Show.
Sponsored by The St. Augustine Port, Waterways & Beach District and St. Augustine Marine, the festival follows in the wake of three very successful past boat shows held in the historic old city.
The two-day St. Augustine Nautical Festival and Boat Show will showcase a wide array of boats on trailers, as well as electronics, maintenance supplies, law enforcement displays and demonstrations, apparel, music, food and beverages. Anyone with a trailerable boat for sale can display it at the festival for only $60.
The festival will be held at St. Augustine's Francis Field located directly west of the Historic Downtown Parking Facility on Castillo Drive. Festival hours are 10 a.m. to 6 p.m. on Saturday, May 29 and 10 a.m. to 5 p.m. on Sunday, May 30. Admission is FREE each day.
Share your thoughts with our readers >>