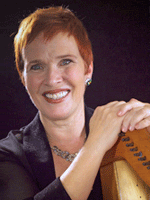 Mary Jane Ballou told Historic City News local reporters that a new heritage music group, "Alondra", is now forming.
A member unit of Florida Living History, Inc., Alondra is a group of musicians devoted to interpreting the music of Florida from the founding of St. Augustine in 1565 to the end of the Second Spanish Period.
Under the Ballou's leadership, Alondra's mix of instrumental and vocal performers presents authentic and entertaining musical accompaniment to various historic re-enactments in co-operation with Florida Living History.
The current focus of Alondra is on Florida's First Spanish Period as the state prepares for the 500th anniversary of its founding in 2013 and the 450th anniversary of the establishment of St. Augustine, our nation's oldest city, in 2015.
Musical styles to be explored by Alondra will range through the English occupation, the Minorcan community, 18th-century Spanish secular and sacred styles, and the beginnings of "American" influences in the 19th century, as well as the contributions of the presidio's Irish soldiers and clergy, and of African residents.
For more information on Alondra, please e-mail Mary Jane Ballou at maryjane@mjballou.com or phone us, toll-free, at 877-FLA-HIST (877-352-4478)
Share your thoughts with our readers >>