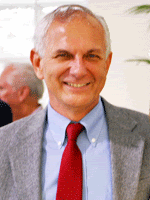 St. Johns County commissioners and Historic City News local reporters listened yesterday morning as Salvation Army of St. Johns Advisory Council Chairman Gary Bruce revealed plans for a new mobile feeding program.
According to Bruce, "The Salvation Army will be striking out in a new direction and anticipate being able to relieve, to some degree, the pressure on the downtown St. Augustine area that is created by the presence of our at-risk and destitute fellow citizens."
Bruce spoke with Historic City News editor Michael Gold and shared his excitement about this enhancement to their existing Feed the Hungry program. "In our mission to assist the homeless in St. Johns County," Bruce explained, "The Salvation Army is taking a new direction. "We recognize the need to keep our citizens informed and responsibly address their concerns."
Families with children, the elderly, day laborers, the jobless and those without shelter, benefit from the Salvation Army Feed the Hungry program. Currently, The Salvation Army distributes about 2,000 morning meals monthly to day laborers and 1,250 bags of groceries to families in need.
"Let me emphasize," Bruce said, "the focus of The Salvation Army is the distribution of groceries and prepared meals to those persons who are hungry or who are in fear of becoming hungry."
In some areas the Salvation Army operates homeless shelters. However, in St. Johns County, their mission is homelessness prevention and rapid re-housing. "We pursue this mission by assisting with rent, utilities and security deposits to assist people to continue living in their current dwelling or by helping them to secure a new one," Bruce said. "Of course, our resources are limited and we cannot fulfill all requests for assistance."
Bruce told us that in meeting the needs of at-risk populations, the Salvation Army of St. Johns intends to work with other stakeholders while facilitating the successful pursuit of our individual organizational mission — identifying St. Johns County Government, the City of St. Augustine, Home Again St. Johns, the St. Francis House and the St. Gerard Campus.
According to Bruce, the St. Johns Emergency Shelter and Homeless Coalition are already on board — assisting the Salvation Army in securing additional state funding for the mobile feeding program. "We will be working in cooperation with the Northeast Florida Command of The Salvation Army and the Administrative Staff of St. Johns County Government to present a written proposal that will begin to address unmet needs in our community."
In his presentation before the commission, Bruce said "Captain Jim Spencer, will be taking the lead for The Salvation Army in the development and implementation of an initial plan of action to bolster our existing Feed the Hungry program and to add critically needed new components."
We were told that Spencer was recently assigned to the St. Johns Corps and will be actively participating in the local initiatives – like Home Again St. Johns – to solicit input, share ideas and hopefully reach a consensus.
"This mobile feeding initiative was developed with the cooperation of the St. Johns County administrative staff, county commissioners and Dr. William Proctor, District 20 State Representative," Bruce said.
Bruce told Historic City News, "Dr. Proctor is a member of the Salvation Army Advisory Council and he played a key and crucial role in helping to create this initiative."
Photo credits: © 2010 Historic City News staff photographer
Share your thoughts with our readers >>