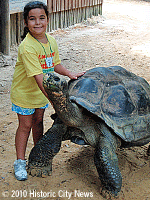 Sales and Marketing Manager Molly Ebersold informed local Historic City News reporters that in November, the St. Augustine Alligator Farm Zoological Park will offer two great events for kids.
On Friday night, November 5, from 6:00-10:00 p.m., The Alligator Farm will host Parents' Night Out, a fun-filled evening for kids to tour the park, play games and participate in hands-on wildlife presentations. The event, which includes pizza and drinks for kids, offers parents an opportunity to enjoy a night on the town or a quiet evening at home while knowing their children are in a safe, fun environment. Parents' Night Out is open to children aged 5 to 12; costs are $25 for Alligator Farm members and $30 for non-members.
On Thursday, November 11, The Alligator Farm will help out families looking for a fun & educational day for their children during the Veteran's Day holiday with Zoo Camp, a local favorite among both kids and parents. Zoo Camp is open for kids in grades K through 5. The day's events will include crafts, games, animal encounters and lots of fun. Camp runs from 10:00 a.m. through 3:00 p.m.; costs are $35 for Alligator Farm members and $45 for non-members (lunch provided).
"Part of our mission at The Alligator Farm is education—but these two events are always so fun for kids that they forget they're learning," said John Brueggen, Director and General Manager of The Alligator Farm. "We often hear from parents how much they like Parents' Night Out and how much they appreciate Zoo Camp because it gives them a safe, fun place for their kids during school holidays. We're happy to have this part in the community."
For more information or to register for either Parents' Night Out or Zoo Camp, please contact
Katie at 824-3337 ext. 29
Photo credits: © 2010 Historic City News contributed photograph by Molly Ebersold
Share your thoughts with our readers >>