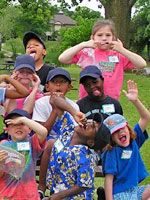 Online lottery registration for the St. Johns County Super Summer Spectacular will begin on March 1st and will close on March 12th at 5:00 p.m.
This year's programs will be offered to St. Johns County residents at nine camp locations; two of which will be for Middle School students.
Between March 1st and March 12th, you will be able to register your child on the St. Johns County Recreation & Parks website http://tinyurl.com/2010lotto A computer-generated, random drawing of applicants will take place on Saturday, March 20th.
"You do NOT need to be in attendance for the lottery, we will mail out notifications immediately following," said St. Johns County Recreation & Parks Youth Coordinator Jamie Baccari. "All results will be mailed by Friday, March 26th, so please be patient and wait for your results before contacting our offices."
If your name is drawn, you will be placed in either your first, second, or third choice if it is available. If all of your camp locations are filled, you will be placed on a waiting list for either your first, second, or third choice camp — depending on which waiting list has availability. If all the waiting lists are filled, your child will not be able to enroll.
Registration fees of $385 will be due once your child is accepted into one of the summer camps. The fees include registration, participant t-shirt, swimming fee and all field trips with the Super Summer Spectacular Program.
If your child participates in the free or reduced school lunch program, upon being selected in the lottery, you can present your St. Johns County School Board paperwork to qualify for reduced registration fees.
Photo credits: © 2010 Historic City News photographer Kerry McGuire
Share your thoughts with our readers >>