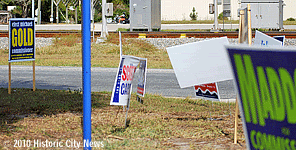 With campaign signs flapping in the wind outside, St. Johns County Supervisor of Elections Penny Halyburton tells Historic City News that her office has seen no slow-down in residents wanting to vote; just one day before Election Day.
Vicky Oakes, Assistant Supervisor of Elections, told our local reporters that "several hundred absentee ballots were cast today" in voting that started as soon as they opened the doors.
"So far, this election has received about 10,000 absentee votes — through the mail and in person," Oakes said. "We are expecting and are prepared for a heavy turnout again tomorrow."
According to Oakes, many voter questions have been concerning how and where to vote, "Today we're getting a lot of last minute questions about absentee voting and where to vote on Election Day, tomorrow."
Oakes said that her office doesn't give voters advice concerning which candidates are best qualified, in fact, campaigning by candidates is not allowed within 100 feet of the polling places, including the Supervisor's office.
"If you didn't vote early or by absentee ballot, we are asking remaining St. Johns County voters to be certain to go directly to their assigned precinct which is printed on their voter's registration card," Oakes said. "You can visit our website, www.stjohnsvotes.us, and search our precinct locator based on a specified address, or, you can review your own voter record to be sure your address is correct on our records."
Today, the Supervisor's Office is seeing more residents "here to vote" rather than to drop off an already completed absentee ballot. Early voting ended on Saturday with 24,440 ballots cast. With more absentee ballots expected in tomorrow's mail and the thousands already cast early, if there is a strong voter turnout for Election Day, this election may surprise some who predicted a "typical slow mid-term election".
Vote tomorrow, Tuesday, November 2nd, starting at 7:00 a.m. until 7:00 p.m. and call the Supervisor's Office if you have any questions about making your vote count this year.
Share your thoughts with our readers >>