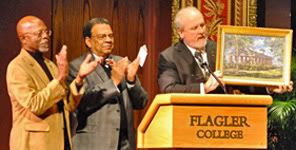 Flagler College hosted civil rights supporter and former Atlanta Mayor Andrew Young last night; who appeared for a special presentation and screening of his documentary "Crossing in St. Augustine".
St. Augustine Mayor Joseph L. Boles and City Commissioner Errol Jones presented Young with a painting of the public market and plaza in recognition of his service, visit to the city at the request of Martin Luther King Jr. in 1964 and moving documentary; which focuses on the impact of the civil rights movement in St. Augustine.
Local photographer and artist Elena Hecht told Historic City News that the painting was created by award winning artist Charles Dickinson; a fellow Plaza artist.
Young was a personal friend and fellow advocate of King during that time. He helped galvanize a movement that transformed the nation through King's famed non-violent approach. Young was a key strategist and negotiator during the civil rights campaigns in Birmingham and Selma that resulted in the passage Civil Rights Act of 1964 and the Voting Rights Act of 1965.
College President William T. Abare, Jr., says the event was an opportunity for the community to learn more about St. Augustine's impact on the civil rights movement.
"Flagler College is honored to be hosting Ambassador Young for this event and to provide this program to the community," Abare said.
Young's bio says he continues to view his professional life through the lens of his first career, that of an ordained minister. His life's work includes decades of public service in civil and human rights, then as a congressman, United Nations Ambassador and mayor. He has been recognized for his leadership of the 1996 Atlanta Olympic Games, his advocacy for public purpose capitalism and the establishment of the Andrew J. Young Foundation.
Young traveled to St. Augustine with his wife, Carolyn Young, who is vice chair of the foundation, as well as an admired educator, public servant and philanthropist, and his daughter, Andrea Young, who serves as executive director of the foundation and is an ardent civil rights supporter.
Photo credit: © 2009 Historic City News contributed photograph by Susan Johnson
Share your thoughts with our readers >>