Historic City News readers are being asked for help by St. Johns County detectives George Harrigan and Charles Brantley who are trying to locate North Beach resident Brittany Jeniveve Tavar.
45 year-old Tavar has been reported missing from her home on South Beach Drive for the past two weeks. She is described as a white female, 5'7" tall, 120 pounds with green eyes and blonde hair.
Friends and family of Tavar believe she may be accompanied by a 26 year-old man who they know only as "Joe".
Tavar drives a dark blue 2004 Toyota Rav4 — that is also missing from her residence.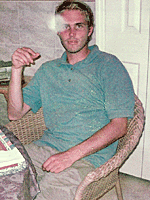 Last seen by friends at lunchtime on July 6th, Tavar's disappearance is considered "unusual" because she left numerous pets uncared for.
Anyone who has come in recent contact with Tavar, who can identify the photograph of "Joe", or, who may have additional information concerning these two individuals is asked to contact the St. Johns County Sheriff's Office at (904) 824-8304.
Share your thoughts with our readers >>