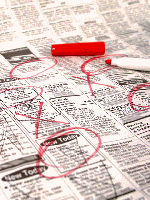 Beginning today and through the month of November, Historic City News readers can take advantage of free classified advertising on St. Augustine's fastest growing daily news journal.
As we ramp-up our classified ads program, we want to continue to hear from you with ideas of how we can make our classified ads the best place to match buyers and sellers in St. Augustine.
All Historic City News readers can just click the "classifieds" link from the blue toolbar on any page and browse or search for specific ads, or, reply to any active classified advertising. Registered Historic City News readers can also place a new ad, edit or delete an old classified ad.
Send your suggestions for new categories and other features for low cost classified advertising in the future. Contact us by e-mail classifieds@historiccity.com
Share your thoughts with our readers >>