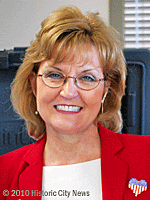 Early voting ended yesterday at 4:30 p.m., and Supervisor of Elections Penny Halyburton reported to Historic City News that a total of 8,398 ballots were cast countywide.
The Ponte Vedra branch library leads the early voting turnout with 1,864 ballots.
Election Day is Tuesday, August 24th. Voters may cast their ballots at their assigned precincts between 7:00 AM and 7:00 PM. There is no voting tomorrow.
The unofficial figures provided by the Supervisor of Elections office last night do not include provisional ballots.
There will be no November voting for two St. Johns County Commission seats in District 2 and 4 since all candidates are running as Republicans. Tuesday will be your last chance to participate in those highly contested races — Democrats and Republicans, as well as minor party affiliates and Independents, have the opportunity to vote before the winner is determined Tuesday night.
The "Ponte Vedra" District 4 race became the "big money" race from the outset and closes with the following reported campaign contributions — in cash and in kind:
County Commission – Dist 4
James E Bryant $21,767.99 ($500.00 in kind)
Joseph Alan Mayhew $6,051.00 ($1,632.00 in kind)
John (Jay) H Morris $61,550.00 ($3,431.00 in kind)
Incumbent Commissioner Ron Sanchez in trying to hold on to his seat in District 2 for four more years; however, he faces three opponents. Another Independent candidate announced for this seat, however, he failed to qualify. Campaign contributions — in cash and in kind:
County Commission – Dist 2
Ben W Adams Jr $13,955.00
Randy Brunson $5,706.73 ($2,500.00 in kind)
Ronald F Sanchez $11,545.33 ($470.00 in kind)
Karen R Stern $18,826.60 ($842.50 in kind)
Photo credits: © 2010 Historic City News staff photographer
Share your thoughts with our readers >>