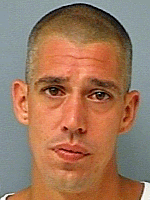 Local St. Augustine reporters at Historic City News have learned that at about 11:00 p.m. last night, Police Officer Cory Weber responded to the St. Augustine Alligator Farm at 999 Anastasia Boulevard to investigate a traffic accident.
The investigation revealed that 32 year-old Michael Richard Goyette, who resides at 15 Barcelona Avenue in St Augustine, was driving a grey Honda south on Anastasia Boulevard.
According to the police report, Goyette drove out of the travel lane and collided with a legally parked Alligator Farm van.
As officers interviewed Goyette, they said that they could smell alcohol on his breath.
Rescue arrived on the scene and informed police that Goyette had no apparent injuries.
Weber performed a field sobriety test on Goyette who exhibited signs that he was impaired. Police took Goyette into custody for driving under the influence of alcohol. When he arrived at the county jail he took a breath alcohol test which showed he was over the legal limit.
Community Affairs Officer Barbara Stevens of the St. Augustine Police Department reports that the Goyette's vehicle sustained about $8,000 in damages in the collision and Alligator Farm van sustained about $700 in damage.
Share your thoughts with our readers >>