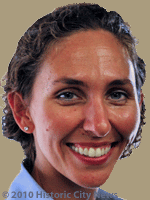 Historic City News received word from St. Augustine Beach Commissioner-elect Undine Pawlowski, including her thoughts on her campaign and the work she says lies ahead.
"From the bottom of my heart, I humbly thank my supporters for their trust and confidence, support, patience and dedication to our community," Pawlowski said. "We worked together to get the objective and experienced representation that our city wants."
Pawlowski held a raffle for a new ipod at Jack's Bar-B-Que on election night, after her party at Zaharia's. The winning ticket belonged to Barry and Maitda Tuttle. "When I called to tell them the good news, they were thrilled and exclaimed that they were shocked because they never win anything," Pawlowski said.
Pawlowski told Historic City News, "Now there is more work to be done, but, I learned some important lessons from the campaign."
"Politics" is lately defined by the word "enough" – enough mudslinging and negativity, enough fiscal irresponsibility.
Campaigns can tear people apart, but they can also bring people together. It's simply a matter of choice. I'm proud that Beach citizens are choosing the latter.
Beginning with signs: many candidates' signs fall victim to vandalism and theft. But, after one of my large signs was smashed, an unknown Good Samaritan came by and reinstalled it — not a small task. Another large sign was spray-painted and someone reinstalled a fresh sign in its stead.
"Yesterday, I had people picking up the political signs around town, as I had vowed," the commissioner-elect said. "I pulled the little ones out of yards and friends with trucks deconstructed the bigger ones. If your sign is gone and you wanted to keep it (to reuse for a yard sale, school project or other reason) please let me know ASAP as I currently have a huge pile of these signs but won't hang on to them for long. I will be looking for a way to recycle them."
I have also witnessed random acts of kindness and generosity from the candidates themselves. Mr. George repeatedly offers to purchase lunch for his opponent, and, Mr. Snodgrass, has reciprocated with breakfast. I make the coffee runs.
This year my mother has been a steadfast volunteer in my campaign, visiting here from Washington DC. My opponent's son offered to help her carry her sign and chair. She remarks daily about how our campaigns have sparked a contagious nurturing community spirit.
With the campaign process behind us, let's continue to work for what we each believe in and if we don't see eye-to-eye, practice patience, respect and understanding. We work best when we work together because debate opens minds and generates solutions. Even in conflict, there is always cause for laughter.
I am honored to be able to serve our community as your Commissioner and I will do my best to represent your desires and concerns for our city in an objective open minded manner.
Photo credits: © 2010 Historic City News staff photographer
Share your thoughts with our readers >>