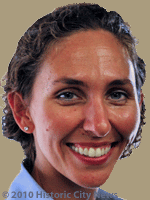 St. Augustine Beach attorney Undine C. Pawlowski has qualified for Seat 3, on the St. Augustine Beach City Commission; currently held by Frank Charles.
Pawlowski, who is making her second bid for a seat on the Beach City Commission in the November General Election, is running for an open seat — Charles has decided not to run for re-election. Pawlowski says that she has received Former Mayor Charles' endorsement.
In addition to practicing law, Pawlowski practices in the art of oils. She told Historic City News that she found St. Augustine Beach by way of Sanibel Island and Captiva.
Pawlowski told us that she was preparing to graduate from law school in Massachusetts when she rented a home in the Captiva area. A friend who knew that she enjoyed open air painting suggested that she visit St. Augustine and once she did, she says she was hooked.
"I never even took the Massachusetts bar exam," Pawlowski said. "I found a home here."
We asked Pawlowski what she thought about the new 2:00 a.m. extension for liquor sales and she says that although she figured that the restaurants would love it and the people living next door would hate it. "I was surprised that there have not been that many complaints," Pawlowski said. "I think that the commission did the right thing by approving it rather than to have patrons driving back and forth to get to an open bar in the county."
Since Pawlowski is an artist, we asked about the apparent rift between some members of the St. Augustine Beach Civic Association and members of the St. Johns Cultural Council who have attempted to locate the St. Johns County Cultural Arts Center in the former City Hall near the pier. Pawlowski said, "I think a lot of it has to do with personalities." Pawlowski told us that the City still owns that property and when the grant funding fell through, the Cultural Council was left holding the bag on their lease. Pawlowski says that she would like to see the parties set aside their differences for the greater good of the cultural community.
Pawlowski thinks that she is the better candidate for the job, given the makeup of the remainder of the commission. She values her legal education and sees that as a plus for beach residents if she's elected in November. "Let's be honest, being an effective legislative official takes more than free time and good intentions."
Pawlowski currently serves on the Beach Planning and Zoning Board — which she says has given her a "detailed familiarity with the ordinances, laws and procedures that Commissioners must understand in order to properly protect and promote the interests and liberties of the beach residents and guests."
Photo credits: © 2010 Historic City News staff photographer
Share your thoughts with our readers >>