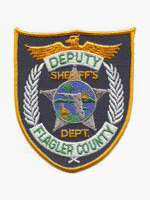 Flagler County Sheriff Donald W. Fleming asked Historic City News to extend an invitation to our readers to join law enforcement officers for a "Peace Officers Memorial Service" scheduled for tomorrow, Thursday, May 13th, at 9:30 a.m.
"Each year we gather to remember those who have sacrificed their lives in service to their community," said Flagler County Sheriff Donald W. Fleming.
The Sheriff's Office will be remembering Sheriff Perry Hall who was killed August 21, 1927; Deputy "Son" Durrance who was killed August 25, 1927; Deputy Charles "Chuck" Sease who was killed July 5th, 2003, and, Trooper Daryl Haywood who was killed October 2, 2004.
The week of May 9th to May 15th is National Law Enforcement Week. Law enforcement agencies will be hosting ceremonies across the Nation and as part of the observance, will be honoring these dedicated officers who died in the line of duty.
Share your thoughts with our readers >>