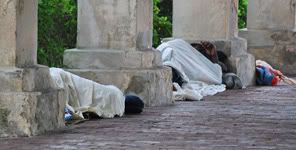 Historic City News has learned that this week it will become a hate crime in Florida to attack a homeless person with prejudice.
Florida, which has led the nation in these types of attacks during four of the last five years, will be the largest of five states, and the District of Columbia, to pass such a law.
But, the National Coalition for the Homeless, a leading advocacy group, says it is unsure whether the steeper consequences under the new law will do any good. Other advocates say publicity alone surrounding hate crime laws can be a deterrent.
"It's important to make statements that homeless people are not second-class citizens and that violence against them, brutal violence against them, will not be tolerated," said Tulin Ozdeger, civil rights director for the National Law Center on Homeless & Poverty.
Florida's new law adds homeless people to an existing hate crimes statute that increases penalties for attacks motivated by race, color, ancestry, ethnicity, religion, sexual orientation, national origin, mental or physical disability or advanced age.
Maximum penalties go up one degree from what they normally would be.
The Florida law's sponsor, Rep. Ari Porth, D-Coral Springs, said it would come into play for such cases as the beating of a homeless man by four attackers in Pompano Beach two years ago. The suspects posted a video of the attack on YouTube.
The suspects pleaded no contest to misdemeanor battery and received sentences ranging from a year of probation to 364 days in jail. The maximum is a year in jail, but the new law would have permitted up to five years.
Maine in 2006 was the first state to increase penalties but, like Alaska later, did not classify the attacks as hate crimes. Maryland last year was the first to label such attacks as hate crimes and was followed this year by Rhode Island and then Florida.
Photo credits: © 2010 Historic City News staff photographer
Share your thoughts with our readers >>