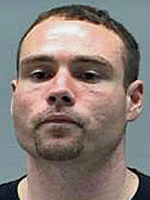 Historic City News readers are being asked for assistance in locating a 29-year old St. Johns County man; being sought by the Sheriff's Office for questioning in connection with at least two burglaries that occurred recently in the SR-207 area.
The suspect, identified as James Mitchell Reed, whose last known address was 52 Sunrise Blvd., is being sought as a person of interest in at least ten additional burglaries.
The first burglary occurred at 5:00 a.m. on April 5th at a residence in the 1400 block of West Street. Entry was gained through an unlocked door.
The 50-year old male victim heard a noise and discovered a subject inside his residence holding a purse. When spotted, the suspect fled and was chased by the homeowner. The suspect dropped the purse and then escaped — leaving his bicycle and a jacket behind. Those items were positively identified as belonging to the suspect.
The second burglary occurred in the early morning hours of April 7th at Hasty's Carpet Co. in the 200 block of SR-207. Entry was gained by breaking a window; causing the alarm to sound.
The suspect escaped over an adjacent fence where a witness located a shoe. The suspect was seen in the area by another witness a day prior to the burglary.
Anyone with any information concerning the whereabouts of James Mitchell Reed is asked to contact detectives with the St. Johns County Sheriff's Office Property Crimes Unit at 824-8304.
You can also call the tip line at (904) 824-9099 or you can remain anonymous and possibly be eligible for a cash reward by calling into CrimeStoppers of N. E. Florida at 1-(888) 227-TIPS (8477).
Share your thoughts with our readers >>