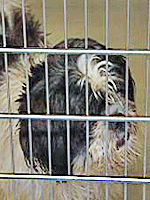 In May, Historic City News learned that staff from the local Government television channel, GTV, began filming, editing, and producing a weekly segment to assist the St. Johns County Pet Center in increasing exposure of their adoptable pets.
"Pets of the Week" photos previously had been sent to local media outlets and posted on the County website, and now increased television exposure has been added.
The positive impact was seen almost instantly as the first dog that was featured was adopted the very next day. The new owner acknowledged that she had seen the animal on the County Government TV channel.
Now going into the 15th week of enhanced video coverage, GTV exposure has contributed to at least eight adoptions where the adopter mentioned that they had seen the cat or dog on GTV.
Check out the Pets of the Week video segments which broadcast regularly on GTV or by visiting the County website.
Share your thoughts with our readers >>