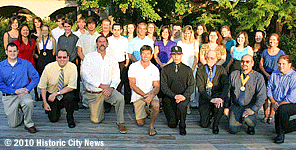 Kenya Kelley reported to Historic City News that the St. Johns River Community College Phi Theta Kappa honor society recently held its fall induction ceremony at the St. Augustine campus.
During the induction ceremony, the new members lit candles and recited their oath in front of family and friends who joined them for the reception that followed.
The St. Augustine campus new chapter members are: Tarek Acosta, Mohd Ali, Desiree Altstatt, Zachary Bonin, Jessica Brown, Courtney Calahan, Amanda Campos, Sarah Carey, Carolyn Clark, Daniel Cobert, Carol Conrad, Mari Cox, Kelly Currin, Ryan Davis, Lana Denton, Jiaren Du, Ariel Edwards, Alan Ehmko, Brittany Fortner, Angelina Fuller, Anastasiya Glukhova, William Hammack, David Harkness, David Hecht, David Hinkley, Mekale Holmes, Beau Howard, Tyler Kelbert, Joseph Kinner, Lisa Laughlin, Dalton Ling, Gregory Lord, Eunsun Makatura, Justin Matheney, Sevanista McKee, Keith Melton, Crystal Mendoza, Gregory Methvin, Danlyn Middleton, Matthew Morse, Renee Nieves, Michael Parham, Shawn Powell, Brittany Reho, Jaime Rickelman, Abigail Rosenburg, Christine Russell, April Sham, Danielle Simpson, Tiffany Tamasfi, Kayla Westpheling, Rebekka Wilson, Charles Wood, Shannon Wright, Courtney Yamnitz and Jie Zhu.
To join PTK, members must have completed 12 credit hours at a two-year institution and hold a 3.5 grade point average. Phi Theta Kappa honor society also promotes scholarships.
Photo credits: © 2010 Historic City News contributed photograph by Kenya Kelley
Share your thoughts with our readers >>