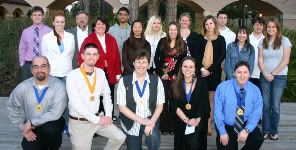 Historic City News received word that Phi Theta Kappa honor society held its spring induction ceremony recently at the St. Augustine Campus of St. Johns River Community College.
The new members lit candles and recited their oath in front of family and friends. A reception followed the induction ceremony.
The St. Augustine campus new chapter members are:
Emily Bauer, Dylan Belloni, Kristyn Bennett, Michael Blackburn, Meaghan Boutwell, Carmen Brasero, Sandra Brogan, Mitchell Brown, Breanna Burton, Maureen Byrne, Courtney Calderon, Caroline Cook, Lauren Croft, Cora Crompton, Kristine Dalton, Veena Gosai, Christy Guidry, Elisabeth Guillemin, Christopher Hankins, Wanda Harrison, Patricia Herring, Dustin Infinger, Mary Irvine, Alexander King, Staci Kirker, Diane McQueen, Ryan Murphy, Claudia Ng, Hannah Pane, Pratik Patel, Samantha Pluhacek, Heather Price, Christine Ramirez, Kayla Repoza, Gwendolyn Spong, Leah Sutton and Heidi Worth.
To be eligible to join PTK, members must have completed 12 credit hours at a two-year institution and hold a 3.5 grade point average. The organization also promotes scholarships.
Photo credit: © 2010 Historic City News contributed photograph
Share your thoughts with our readers >>