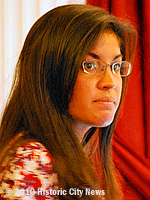 St. Johns County Chamber of Commerce's Historic St. Augustine Area Council reported to Historic City News that Jamie Alvarez from the First America Foundation explained her involvement as program coordinator for the City of St. Augustine and her transition to the First America Foundation.
Alvarez worked in the Department of Heritage Tourism for the City until she resigned her position effective Monday, August 9, 2010, according to Human Resources Manager, Nancy A. Rawson.
The Historic St. Augustine Area Council meeting was held on Friday, October 8, 2010 at the Prosperity Bank Community Center.
Alvarez informed the council of the Foundation plans for creating "signature themes" and partnering with other organizations, like Romanza, to brand and promote commemoration programs.
"The goal is to turn St. Augustine events into First America Foundation events," according to the report received by Historic City News this week.
Share your thoughts with our readers >>