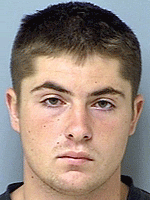 In the fatal collision of a truck and pedestrian Saturday morning, police announced that they made an arrest and were continuing their investigation — Historic City News has learned more shocking details, including allegations of a plot to destroy evidence of the crime.
The victim, 33 year-old Brian Robert Stevenot of Ormond Beach, was pronounced dead at the scene when his body was discovered shortly after 3:30 a.m. Saturday morning — laying in the median south of Rambla Road and North Ponce de Leon Boulevard; across from the Winn-Dixie Shopping Center.
Police Officer Kevin Carroll and emergency rescue personnel believed that the victim's injuries were consistent with being struck by a vehicle. Traffic homicide detectives responded and began their investigation.
Community Affairs Officer Barbara Stevens of the St. Augustine Police Department reports that just before 5:00 p.m. yesterday, October 17th, a witness came forward and told police that a friend of his, 19 year-old Derek Lee Mrasak, who resides at 3895 South Francis Road in St. Augustine, hit someone with his truck the night before on US-1 and thought he killed him.
The witness told officers that he and a group of friends were shown the heavy front end damage to Mrasak's truck, including blood and hair on the windshield. According to police, the witness told the group that Mrasak "had a few to drink" and that he "hit a guy who stepped out in front of his vehicle".
The group of friends wanted to clean the truck off "so nobody would see it from the street", according to the witness who left the residence and reported what he learned. As the witness was being interviewed by police, another alleged member of the group, Skyler Alexandre, called his cell phone and advised that they dismantled damaged parts of Mrasak's truck and made it "unrecognizable".
Alexandre is said to have told the witness, whose identity is not being released, that the other group members developed a plan to sell the truck, within the week, so Mrasak would no longer own it.
Police contacted Mrasak and Alexandre at the location where the truck was believed to be dismantled as part of their ongoing investigation. On October 17th at 7:00 p.m., the dismantled parts of the truck were found by police and collected as evidence. Mrasak refused to answer any questions.
Mrasak is being held without bond, charged by police with negligent vehicular manslaughter, a first degree felony, and also charged with destroying evidence, a third degree felony.
In addition to Mrasak's arrest, police have filed charges against Skyler Alexandre with the State Attorney for the 7th Judicial Circuit in St. Johns County; alleging Alexandre became an accessory to vehicular homicide and that he tampered with evidence; a third degree felony.
Photo credits: © 2010 Historic City News staff photographer
Share your thoughts with our readers >>